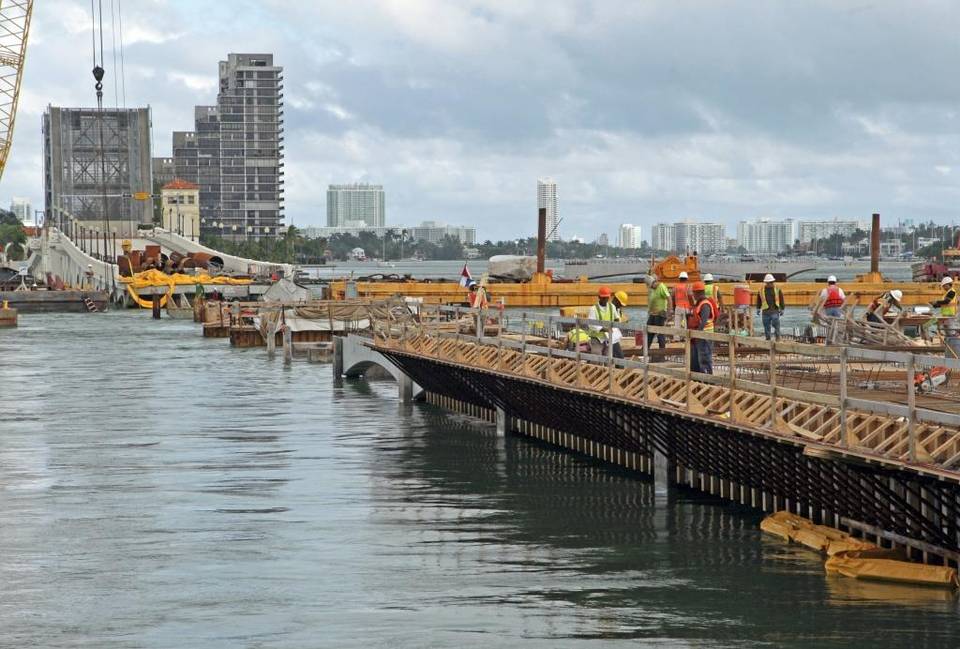 As the masses are about to move back and forth between Art Basel Miami Beach and Miami Art Week, a picturesque route connecting the mainland to the Beach is still sealed off due to construction.
The westernmost stretch of the Venetian Causeway is completely closed to all traffic, in the midst of a total rebuild of 730 feet of weakened bridge.
Once a dilapidated span of concrete patched by metal plates in its weakest spots, the Miami bridge leading to Miami Beach was dismantled during the summer when Miami-Dade County began a nine-month, $12.4 million construction project. Cranes now rise from the water near the site, where crews can be seen working on the portion of the new bridge.
With the Venetian out of commission, art fair attendees can use one of several shuttles that will connect Miami to Miami Beach. Also, Uber will debut a yacht service across Biscayne Bay.
The Venetian project is on track to be mostly finished by the end of February, according to the county.
"The project is currently on schedule and budget," said Francisco Calderon, a spokesman for the county's public works department. "The projected substantial completion date is still the end of February 2016. At this time, there are no unforeseen issues that should impact the projected completion date."
The emergency replacement is just the first of a long project to replace or fix all 12 of the causeway's bridges. The Florida Department of Transportation is in the middle of study to look at options that range from complete replacement to rehabilitating existing structures. The study won't be done until 2017.