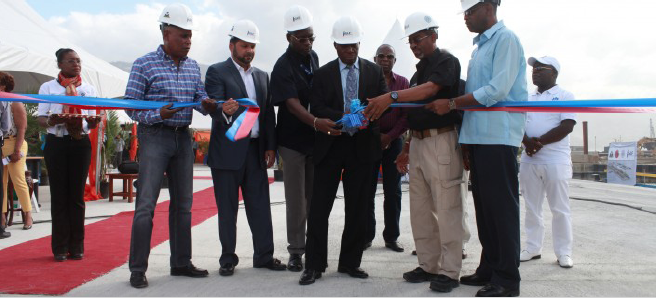 Port-au-Prince, Friday, January 22, 2016: The Director General of the National Port Authority (APN), engineer Alix Célestin, accompanied by the Managing Director, Mr. Eric Smarcki Charles, officially opened this Friday, January 22, 2016 , the first 150 linear meters (out of 410) of the North Pier under construction for several months by the Italian-American firm, GLF Construction under the supervision of the Spanish firm ALATEC. This ceremony was held at the International Port of Port-au-Prince, which brought together eminent personalities from the business community, the National Port Sector, associations and politicians, executives and employees of the National Port Authority (APN).
This inauguration which was attended by Ministers of Planning and External Cooperation, Mr Yves Germain Joseph, Trade and Industry, Mr. Hervé Day, and Public Works, Transportation and Communications Engineer Jacques Rousseau, the Representative of the Chamber of Commerce and of Industry, Mr. Christopher Handal, Secretaries of State, the Administration of Managing Directors, was the occasion for the Director General of the APN to emphasize the high importance of this infrastructure for the country's economic development.
Convinced that the APN is a pioneering institution with the delicate task of being one of the main entrances of the country, engineer Alix Célestin believes the reconstruction will allow Haiti to improve its position in the region and is committed to this effect to take all the appropriate steps to increase the efficiency of the services offered by the Port of Port-au-Prince for the benefit of the community.
Many speeches were also made for the occasion by, among others, the President of the Union of Employees of the National Port Authority, Sir Wilfrid Saintilus, the General Contractor's CEO Mr. Francesco Senis of GLF Construction and Representative AMARH, Mr. Edouard Baussan, followed by the ribbon cutting opening the book to commercial traffic and encouraging a site visit whose remaining 260 meters are under construction.
The Directorate General of the National Port Authority reaffirms its determination to transform the maritime sector of Haiti to make it modern and competitive as well as other similar institutions in the region. This transformation will replace it in the supply chain of maritime transport to enable it to facilitate trade and fully play its role as a lever for development.