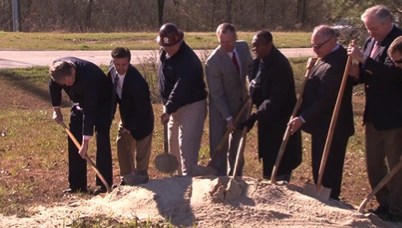 BATON ROUGE, LA (WAFB) – City leaders broke ground on a new traffic makeover aiming to relieve traffic congestion in Baton Rouge.
Mayor Kip Holden said by the time the project is finished in less than two years, O'Neal Lean will feature two more lanes from South Harrell's Ferry to George O'Neal as well as a raised median and sidewalks on both sides. There will also be curb, gutter and drainage improvements.
It's part of the city-parish's "Green Light" program. The groundbreaking ceremony was held at the Temple Baptist Church on O'Neal Lane.
"It's going to take the patience of everybody who utilizes this road to get it done and we appreciate and look forward to the many improvements that this project will offer," said William Daniel, the city's chief administrative officer.
"I think it will be a great improvement to our area and open up some traffic flow. I think it will be a wonderful improvement. I'm grateful for the green light plan," said Tracy Taylor, who travels O'Neal frequently.
Project officials hope that the $14 million price tag will provide relief for motorists who travel the O'Neal Lane corridor often.
This project is part of the final phase of implementing a corridor connecting Nicholson Drive to Hooper Road. The north-south corridor is designed to offer alternative routes for the parish's most traveled roads, such as Siegen Lane, Highland Road, and Tiger Bend Road.
The O'Neal Lane project should be complete November 2017. For more information on the Green Light Plan, visit the official project website HERE.
Copyright WAFB 2016. All Rights Reserved.