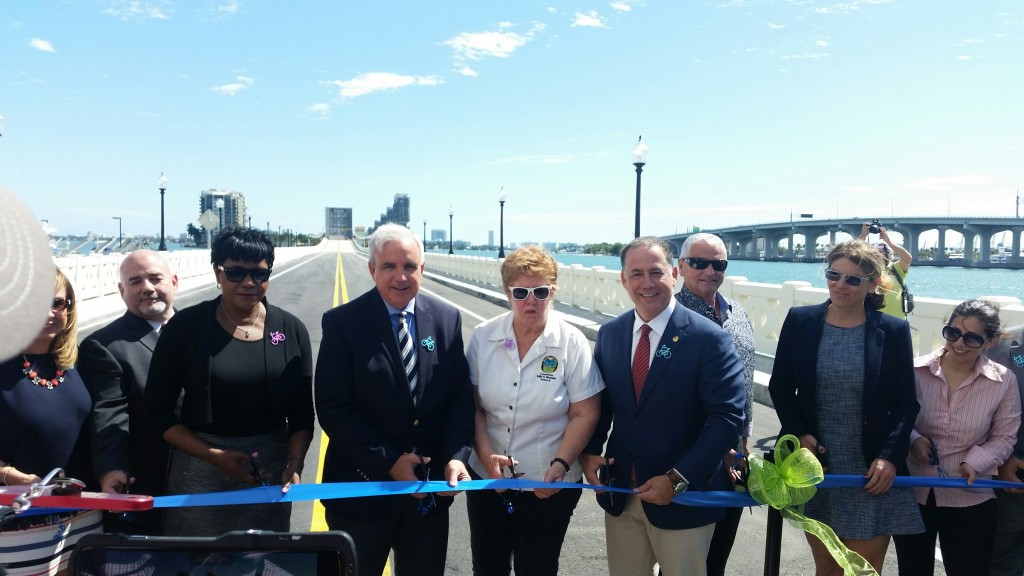 On February 29, 2016 the West Venetian Causeway Bridge reopened to the public, linking Miami and Miami Beach after nine months of rehabilitation work.
Miami-Dade County awarded this rehabilitation project to GLF Construction Corporation in 2015 and completed it on time and on budget.
The project consisted of the replacement of the bridge's westernmost portion. Approximately 730 feet of superstructure and substructure were removed and replaced with a new complete bridge superstructure and substructure, along with a new approach roadway and lighting. The removed parts of the old bridge were submerged to create an artificial reef.
The completion of the rehabilitation project was celebrated by the Department of Transportation and Public Works of Miami-Dade County with a Ribbon Cutting Ceremony. The following special guests were in attendance: Honorable Miami-Dade County Mayor, Carlos Gimenez, Deputy Mayor, Alina Hudak, Department of Transportation and Public Works Director, Alice Bravo, P.E., District 3 Board of County Commissioners, Honorable Audrey Edmonson, and District 4 Board of County Commissioners, Honorable Sally Heyman.
Mayor Gimenez was very pleased with the timely completion of this project and said, "It's beautiful, in keeping with the historic designation. Making things beautiful may take a little bit more money on the front end, but you're going to get 60 years' worth of the aesthetic beauty of this bridge."
After the ceremonial ribbon cutting ceremony, just before noon, dozens of bicyclists and pedestrians crossed the new span. By about 1 pm., the Venetian Causeway was open to all traffic again for the first time since June 2015.
[new_royalslider id="2″]